Locations & hours

Contact

Delivery & Pick-up
Delivery & Pick-up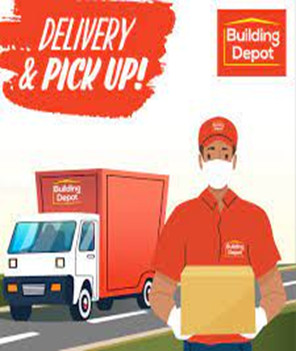 Delivery fees
Delivery fee may vary depending on the size of your order, your location and order amount.
FREE delivery for orders of 499,- and up.
Delivery fee Banda Bou 58,50
Delivery fee Banda Riba 37,10
Delivery time
Your order will be delivered within 48 hours
Please read the delivery conditions and make sure someone (18 years or older) is present to receive and sign for the delivery of your order.
For changes or more details (time of delivery) call
+599 9 562 3233
+599 9 514 8507
Delivery conditions
JD Transport will deliver orders for Building Depot Trading B.V. from Monday till Friday  from  8 AM till 5PM.
Deliveries are placed within the reach of 3 meters of the delivery truck.
Orders on pallets will be delivered till the place where the forklift can reach and will not be stacked by the driver.
If the customer refuses an order or has not submitted the correct instructions for his delivery, the customer will be charged ANG 125 (excluding all other costs mentioned in the abovementioned section.
In case the customer has filled out this form correctly, the additional charges that are applicable, should be paid to Building Depot Trading B.V.
If JD Transport B.V. requires additional information prior to the scheduling of the delivery of the order, the time frame will commence as soon as all details have been made known to Building Depot Trading B.V.
JD Transport B.V. guarantees that orders are delivered within the set time frame between Building Depot Trading B.V. and the customer, unless due to force majeure this was hindered. Force majeure entails all circumstances that have not allowed JD Transport B.V. to be able to comply with the delivery nor was able to lessen its consequences. This encompasses fire, an explosion, flooding or any other natural disaster.
At the delivery address at least 1 adult (at least 18 years old) to receive products.
When delivery has been made, the customer (an adult person) is required sign the delivery sheet to confirm that all items of the order have been delivered in good condition and not damaged. In case the product has been delivered damaged or incomplete, the customer should indicate this to the driver, so this can be noted. After the sheet has been signed, which confirms that the order has been delivered in good condition, the customer is liable for the product. An item can be returned to Building Depot Trading B.V., as long as this is within 30 days after delivery, has not been used (if the product was delivered wrapped, it can only be returned if it is still wrapped and unused). The customer will have to contact Building Deport Trading B.V. to return a product.
If the customer is not present at the moment of the delivery, JD Transport B.V. will;

deliver the goods at the customer's address and the customer is liable for the delivered item(s) or
return the goods to Building Depot Trading B.V. which entails that the customer needs to pay a penalty fee of ANG 125,- and
a new delivery date will have to be arranged between the customer and Building Depot Trading B.V.
Pick up
Pick up time
Your order is ready for pick up the next day after 12noon at our store at our Megestore in Zeelandia.
Payments
You can swipe, pay with cash or wire transfer the order amount to
RBC                                          8000000054741918
Banco di Caribe                         17812601
MCB                                         26496607
In case of wire transfer, send proof of payment to customerservices@building-depot.net or WhatsApp to +5999 513 3233
Should you experience an issue, do not hesitate to contact our Customer Service Team at customerservices@building-depot.net.